Italy Trip Diary, Part 1
Added 18 November 2008. Pictures and stories from our trip to Italy, from November 1 to 14.
We spent two days in Venice, four in Florence with tours into Tuscany, three days in Cinque Terra, and three days in Rome. It was a very active trip.
Things the guidebooks don't tell you
Things the guidebooks don't tell you
Protests seem to be just part of the fabric of daily life in Italy. In two weeks there, we encountered one train strike, one large protest in a Roman public square. and a student occupation of a building. Each was perfectly peaceful, scheduled in advance, and well-communicated to the public. Oh, I think there will be a general strike there on December 12.
Some of the toilets there are seatless—just the porcelain bottom there, no liftable plastic seat over it. At first we thought some public places had just rudely removed all seats that were originally in place, but after encountering them repeatedly, I had to conclude these seemed to be a style of toilet one could select. I don't see the style taking off in North America. (And no, they definitely weren't bidets.)
Most hotels don't supply Kleenex. Perhaps Italians use handkerchiefs more.
Every Italian carries an umbrella, and will raise it at the slightest sign of rain. If you do not follow suit, you will be besieged by umbrella salesmen on the street, some quite adamant that you need an umbrella now.
If you don't like eating Italian food (pizza, pasta, grilled meat and fish), you're not going to be too happy with the dining options in Italy. Cause most places, that's all there is.
Italy doesn't seem to have a weather network on TV. They could really use one.

Top
Getting lost in Venice
We initially weren't sure about Venice. It's particularly expensive, in a country that isn't all that cheap otherwise, and it's gotten mixed reviews.
But really, we loved it. It's just a very neat-looking place, with all the canal, the little twisty streets in between them, the gondolas and water taxis, the sinking buildings reflecting faded glory. And while it might accurately be described as a "decaying" city (it is literally sinking, many of its buildings water-damaged), I would not describe it as "dirty". The streets were regularly cleaned and the canal water, while I would not swim in it, did not smell.
Our first day there, we were, of course, pretty sleepy with the time change. After a confusing wait at an empty booth, we did get a semi-private water taxi ride to our hotel, which wasn't far from the train station, and was overlooking a canal. It was a pretty nice room, fairly large for Europe, and we had a helpful porter. I tried not to think about it probably being the most expensive hotel room I've ever stayed in.
View from the water taxi
We decided not to nap immediately and instead went out to take a "vaporetti" tour of the city. This means getting on the Venice version of public transit—a large commuter boat, and staying one for key stops from one end of the city to the other, while you look up in a guidebook what you're seeing. It sort of dawns on you how everything is done by boat here—garbage pickup, fire-fighting, getting the groceries...
Our final stop was the San Marco Square, which is really impressive looking.
We decided against going into Doge's Palace, shown above, (which looked very cool from the outside and was no doubt impressive inside) and just walked around the twisty streets for a while. Around 4:00, though, we concluded we were starving. Now, Italians normally eat between 7:30 and 10:00, and many restaurants aren't even open at 4:00, but Venice is pretty touristy, so we did find a restaurant. It was one of the more mediocre meals of our trip, but it did the trick of satisfying hunger.
"Get lost in Venice" was advice in both of our guidebooks, and we took that to heart in our amble back to our hotel. Even when we knew we were very close to it, it seemed impossible to find that actual building. But finally we did.
Then we went to bed early and slept about 12 hours (!).
Venice Day 2
After a quite lovely breakfast (Venice would turn out to have the best breakfast buffet of our tour), I wanted to go to the Accademia Art Gallery. Getting there was not a simple thing, but transit is expensive, so we figured it out. Eventually.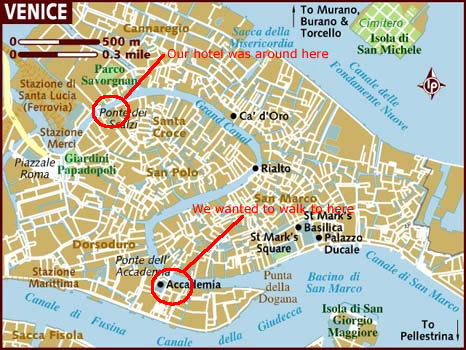 We enjoyed the Accademia Galleries (no photographs allowed), which focused on Venetian artists such as Titian, Bellini, and Carpaccio. Many of the paintings had religious themes. We used the audioguide, which was very helpful in getting more out of it. The one painting that sticks most in memory was a huge canvas depicting hellish images of snakes, bodies, attacks... Course I don't remember the artist or the title, now. "By far, my favourite," said Jean, looking on the horrific scene.
After lunch, which was mostly notable for the spaghetti I ordered turning out to be completely black (squid ink—it tasted good, but was very surprising!) and enjoying the richest red wine of the entire vacation, we somehow managed to get lost again on the way to the Guggenheim Gallery, which really wasn't very far from the Accademia—on the map above, it would be pretty much just up the street. But somehow we ended up the completely wrong canal, not able to orient ourselves on the map. (Perhaps it was all that rich wine.) At any rate, we did enventually find our way there to see this collection, which was all modern works—Pollock, Dali, Picasso, Chagall, Miron, Magritte, and so on—collected by an eccentric, wealthy American woman. We used the audioguide here too, though some large groups made viewing some works a challenge.
It was already getting dark (it got dark around 5:00) so we went to San Marco Square again, to see it at night. It was quite lovely and lively.
Dinner this night was our first noteworthy meal. We wanted to try cicchetti, which are kind of like Spanish tapas—little appetizer portions of food, often served in stand-up bars. We selected a spot recommended in one of the guide books. We met a local there, who assured us that "everything here is good"—that he ate there every day. He turned out to be right. Our plate of cichetti had lots of nice tidbits—tender squid, tasty tomato and cheese, marinated green beans, shrimp, etc. And then we had some pasta: A very good tagliattele with seafood for Jean, and what was probably the best gnocchi with tomato sauce I've ever had, anywhere.
We were seated at a long table, and we talked to a couple other couples who eventually also were seated there. Both were Americans, one from Ohio, another from Florida. The Ohio couple commented on how their Italian hosts were upset that they were missing their election! They had to explain they had indeed voted, in advance, by absentee ballot. (I like to think they voted Obama, though I didn't specifically ask.) They also told us about their time in Rome, which included getting caught in a huge student protest!
Climbing up to see Florence
We couldn't afford to stay longer in Venice, so we took the train to Florence the next morning. That all went fine, and we quickly found our Florence hotel, as it was across the street from the train station. On check-in, they informed us we'd been upgraded to the "Waldorf Suites", the renovated section next door. (Little did we know this would cause us some grief later.) The room was fine—again, pretty big for Europe, the toilet had a seat. There was no Kleenex, but there was CNN International and BBC News, which was important for the upcoming election news.
It was drizzling a bit, but we headed out anyway. After carless Venice, Florence seemed really loud and busy, the narrow streets a bit hazardous. But we got ourselves to the Duoumo, a really massive church with an incredibly ornate exterior. We considered climbing the Dome this day, but with the gray skies, decide against it.
So after getting maps and such from the tourist office and a fairly indifferent pizza lunch, we decided to just walk around and look at some of the shops. Florence does have some nice stuff on offer, particularly in the leather arena. In one store, Jean tried on a really gorgeous black and brown leather coat that fit him beautifully, and that he said felt wonderful on. But it was also 285 Euros, so he managed to walk away, despite the offer to barter.
We decided to have dinner at Osteria Congrega, which proved a good choice. It was a funky-looking little place with a very attractive waitress. And our appetizers were amazing. I had risotto with porcini mushrooms; Jean had smoked goose in truffle oil with taggliatelle.
Florence's specialty food is actually beef, so that's what we both had as main courses. Jean's was served with gorgonzola, mine with balsamic vinegar. Both are very well prepared, very tender. We also have side veggies and end up too full for any dessert.
Rain had stopped now, so we walked around the city a bit more.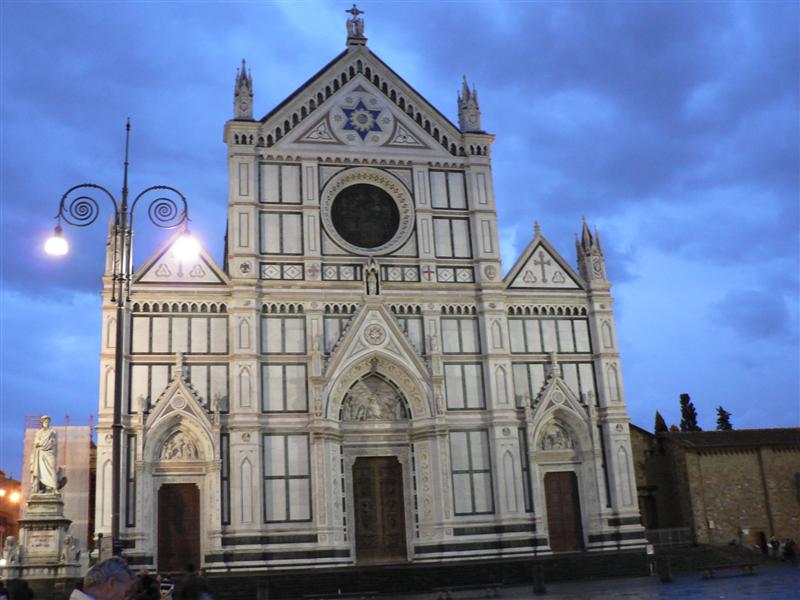 Spanish church—not the Duomo
We ended up at some elaborate building with all these statues outside it. Quite striking looking in the dark.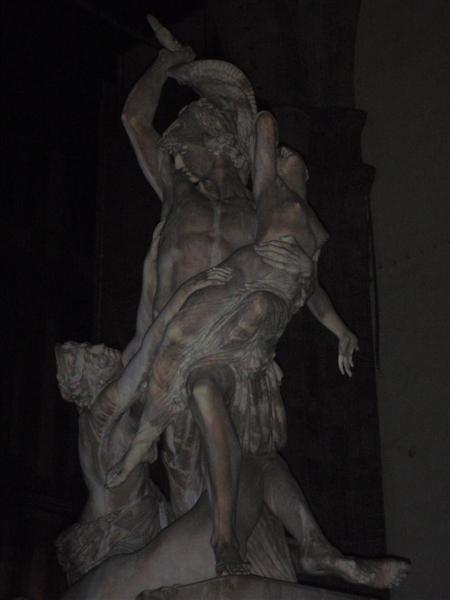 Copyright © 2001–2006 - Jean Lefebvre and Catherine McNair
All Rights Reserved