An Ironic Night at the Rock Opera
We Will Rock You performance featuring Brian May and Roger Taylor, Toronto, 1 August 2007.
News of the world: The royal visit
I'd been signed up to the email list since hearing that We Will Rock You, the music built around the music of Queen, was starting a run in Toronto, but this 17 July message was truly a special one:
On the regularly scheduled Wednesday, August 1st performance, Brian May and Roger Taylor will join the entire company of WE WILL ROCK YOU in Toronto at the Canon Theatre and perform live in the encore of "Bohemian Rhapsody."
The email included a handy link to Ticket King, so I clicked through to see what sort of seating was available. The angsty result was that I could seat right in second row, dead center.
Why angsty? Well, getting myself to TO on a Wednesday night seemed a bit complicated, and I generally wasn't thrilled with the idea of going alone. But I knew Jean had a busy week then. So I canceled out of the ticket order and groused to Jean (in email) that missing this was "killing me".
Well, ask your sister or a friend or somebody, he sensibly wrote back.
I had my doubts that was going to work, but emailed Michelle anyway. "I know you probably don't have time," I wrote, "and that's OK, but there is special We Will Rock You performance on August 1..."
"I'd love to see We Will Rock You!" she wrote back. "Let's book it!"
So I did. (Row J at this point—not quite second row centre, but still pretty good.)
"Wow, you're fast," said Mich, a bit stunned to find herself booked in mere minutes after her reply.
Does this mean Ben Mulroney gets my first born?
Michelle and I arranged the work leaves necessary to meet around 4:00 in downtown Toronto, spent some time at a not terribly successful shopping expedition to the Eaton's Centre (though I did get a T-shirt!), we hobbled down to Church and Front on our fashionable and therefore not that comfortable shoes, intent on Jamie Kennedy Wine Bar.
Only temporarily stymied by the astoundingly pale signage on said Wine Bar (is it so famous a space now that signage is moot?), we settled in for a quite lovely meal of 3 oz wines and tapas (fries mayo, duck confit, rich beef and mushrooms...) and caught up on the family news.
... And making for my apparent pre-We Will Rock You ritual, we had to grab a cab to make it to theatre in time. (The first time I went to We Will Rock You, with Jean, our fine lunch at Jamie Kennedy Gardiner preceded the mad dash, then taxi ride, to the Canon Theatre.) We were further strained by the impressive line-up for the ladies room, but did get to our seats in time.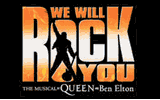 "Now, who's going to be here tonight?" Michelle asked, scanning the program to make sure that Suzie McNeil, of Rock Star: INXS fame, was still part of the cast. She was, and I explained to Michelle about the encore featuring Brian May and Roger Taylor. And how they were actually in town for Canadian Idol, who were also filming at this performance.
And now I must draw your attention to the conditions under which we were permitted to be part of this "special" performance. The following Notification was handed out to everyone in attendance:
By entering these premises you give Insight consent to the unlimited use of your name, voice, image, likeness, performance, and such biographic material as you may furnish to us in connection with the Program throughout the World, in perpetuity, in all media, now or hereafter known.
Wow. In perpetuity. In all media, now or hereafter known.
I think Canadian Idol may now own my soul.
Isn't it ironic? Don't you think?
It soon became apparent that:
The audience is incredibly enthusiastic (and large—I later the show was a sell-out).
We seem to be the only two in it without glow sticks.
The show is every bit as enjoyable this time as the first time I saw it. It really is an incredible group of singers, and the script is just a lot of fun. I once again cried during Only the Good Die Young (noticed that Suzie McNeil as soon as she made her first appearance this time) and sang and stomped along with We Will Rock You. But it's undeniable that the whole point of this musical (such as it is) is that manufactured pop idols are bad.
In other words, it has a very anti Idol message. So the irony of it all was a bit rich.
However, my ironic appreciation of that pretty much disappeared into fan-girl fever during the Bohemian Rhapsody encore, when Brian May himself came out to play the guitar solo, the cast giving him their best "I'm not worthy!" bow. In fact, such was my thrill that I can't even tell you whether they did the whole operatic part of that song or not. I do know that Brian May returned and Roger Taylor's drum-kit swung forward for the last part of the song (does that mean they did do the operatic part?). And no Canadian Idol kids appeared for that part.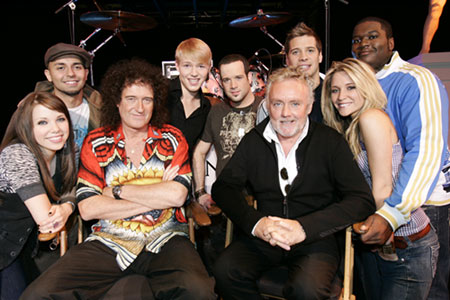 The always-gracious Brian May then spoke a few words to the crowd, praising the extension of the show in Toronto, saying they felt they now "had a home in Canada". The CI kids do pop out now. Brian speaks about working with them, indirectly addressing the irony by saying he was having a change of heart, sensing more authenticity in this set of of potential "idols"—possibly a reference to the fact that CI allows the contestants to play their own instruments this year, which many of them can do.
At any rate, the CI kids and the cast then join Brian and Roger in a performance of Show Must Go On, a famously difficult song to sing, but which the cast carries off effortlessly, the kids a little less so.
Then it's done. A crowd gather around the exits, hoping for autographs, I assume, but Michelle and I head to the car to go back to her house. But it does take a little while to fall asleep.
A potty tale
I have one of those nights where, concerned about not sleeping in, I wake frequently to check the clock. "2:20 huh? Guess I can go back to sleep..." So I am up in time, but feel a little dozy as Michelle scrambles to get the boys and herself ready for the day.
She informs me that:
Hugh is in Ottawa for the day.
Neal emailed at midnight to say they'd be arriving at Michelle's earlier than expected (escaping a hot, croweded apartment).
Work emailed to ask whether she could prepare a few slides for a 9:00 meeting. "No" she Blackberried back.
So it was all a bit frantic, but we did get away by 7:40, only 10 minutes later than planned and with sufficient time for me to make the 8:30 bus (I already have my ticket). In the car, Michelle asked that I read Neal's full email from her Blackberry. We sympathize with his description of the hot apartment (TO is having a heat wave). "And since you've kindly offered to leave a key..." I read.
—"Oh crap," say Michelle. "I forgot to leave the key!"
So it's off the highway and back to the house. I attempt to get the house key off the ring of car keys while Michelle is driving, but that proves unsuccessful. Even extracted, the house key proves a bit tricky (and John and Jackson are less than thrilled that their DVDs have stopped), but we manage it and get back on the road.
"We can still make it", Michelle assures me, and indeed, we make fairly good progress through the busy streets until Jackson has news.
"Mommy, I have to go pee! Really bad!"
"Can you hold it?"
"No! It's too strong!"
A pause, then a question: "John, are you done with your chocolate milk?"
"No!"
"Well, can you finish it?"
"OK."
I'm in a complete fit of giggles at this point, but still manage to take the cup from John and dump the bit of chocolate milk remaining in it out the window.
Michelle expertly coaches Jackson through the "pee in a cup" process with little help from me, as I'm still finding the whole thing a tad amusing.
But I make the bus on time.
Neal and crew are able to let themselves into the house to cool off.
And Jackon enjoys telling his teachers all about how he peed in a cup.
THE END