Spanish Trip Diary, Part 2: Andalusia—Seville / Cordoba
Added 19 March 2006. Pictures and stories from our trip to Spain, from February 28 to March 10.
Andalusia: Seville / Cordoba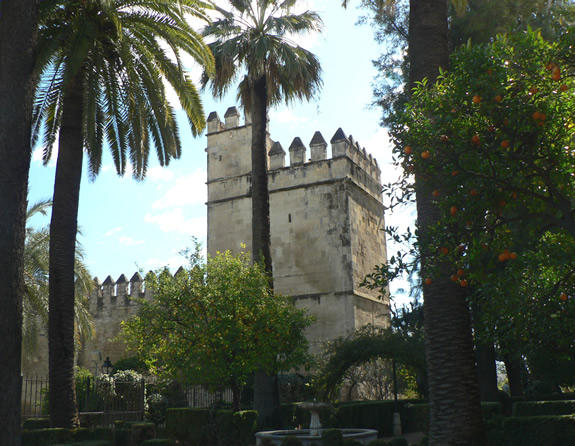 Palm trees, orange trees, and ancient buildings were quite representative of this region
Transportation and hotel notes
Though not exactly a cheap way to go, we loved the high-speed trains. Madrid to Seville in two hours. The trains are new, quiet, and smooth. Movies are available, but we instead listened to copies of the New Yorker and Anthony Bourdain's Kitchen Confidential on the iPod. The latter is a good book for foodies like us, though we could have done without the descriptions of the many injuries kitchen workers sustain.
Our Seville hotel was a four-star, so it was very swank and modern-looking. And they had pushed the two single beds together for us, saving us that bit of labour. (In Madrid, we actually had one double bed! Exciting. I mean, do Europeans not like to sleep together, or something? Weird.) Its location wasn't as nice as the one in Madrid, though. It was pretty close to the train station, but a bit of a hike to downtown.
Sights
Seville Cathedral
As the Scotsmen seemed to have spent all their time building castles, so the Spanish seem to have whiled away many a year building Cathedrals. The Seville one wasn't as impressive as Tolédo's, but was still something to see. In fact, we were very reluctant to leave. Partly, this was because it was so beautiful. But also, it started to absolutely pour rain while we were in there. It was the only rain of the trip, and resulted in us seeing more Seville sights than expected, since we really didn't want to be outside for too long.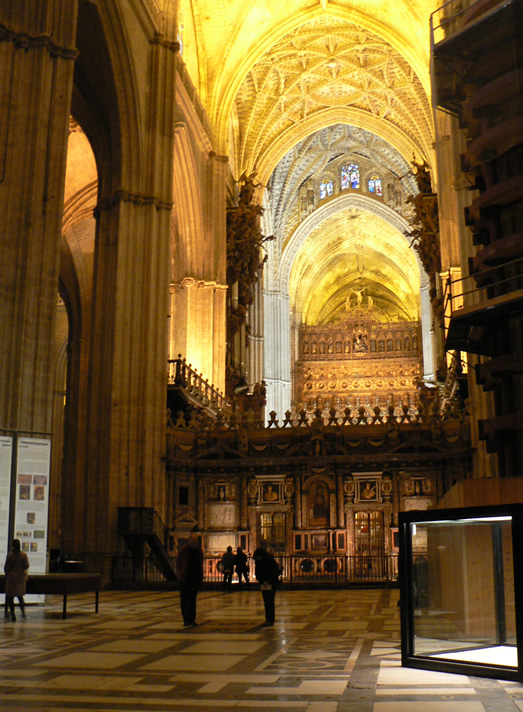 Inside of Seville Cathedral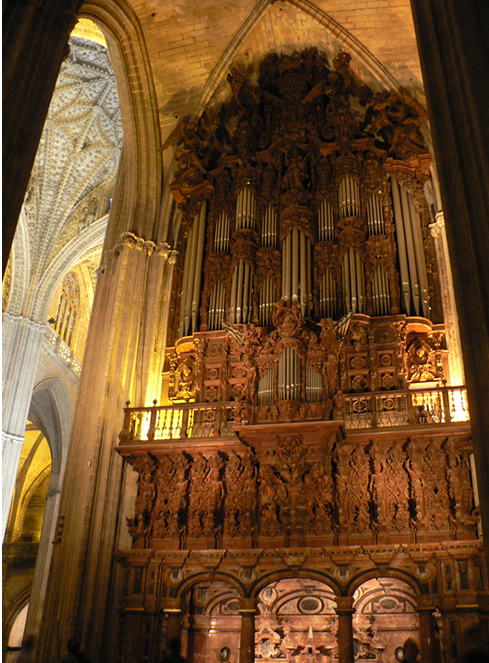 Amazing pipe organ at the Cathedral
Bullfighting Museum
Another stop on the rainy period in Seville. We got a Spanish/English tour of a bullfighting ring (which continues to be used, but the season restarts in April), along with a small museum inside with bull's heads and bullfighting art and portraits. We also saw where the horses and bulls are kept. Somewhat interesting, but not a must-see.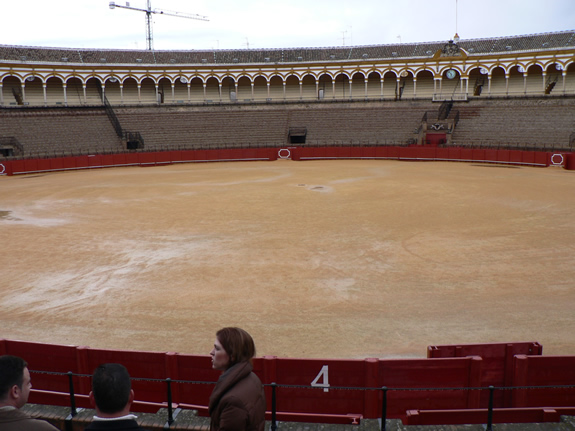 Tour guide explaining what the different doors are used for in bullfighting
Art Gallery
No photos from here, but we did enjoy seeing the piece at this small (and free!) museum. It had a focus on somewhat lesser-known Spanish artists.
Alacazar (Cordoba)
An Alcazar is a fortress. We're not sure about the details of the history of the Cordoba Alcazar, because the explanations were all in Spanish. But it did have a lovely garden outside.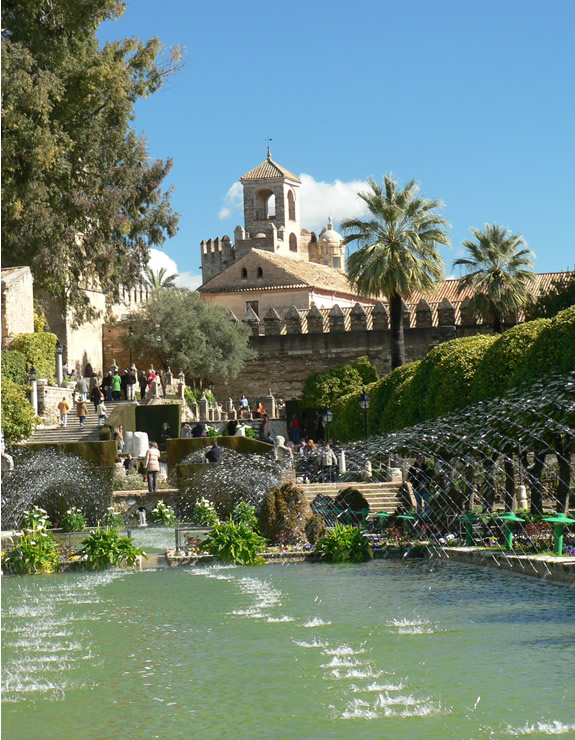 Overview of the Alcazar garden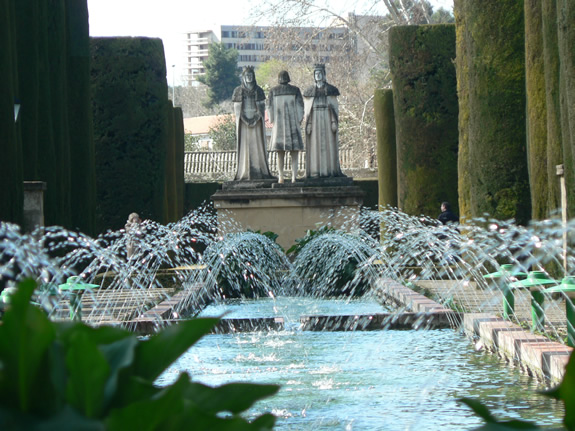 Close up of one part of the garden. Cool shot, eh?
The Mesquita
The main tourist attraction in Cordoba, the Mesquita is an enormous mosque built when the Arabs lived in these parts, that has since been turned into a Christian church. Most of the original architecture has remained intact, but they did build an enormous Cathedral right in the middle of it. It's the oddest thing to see (and hard to capture in a picture, since everything is so big).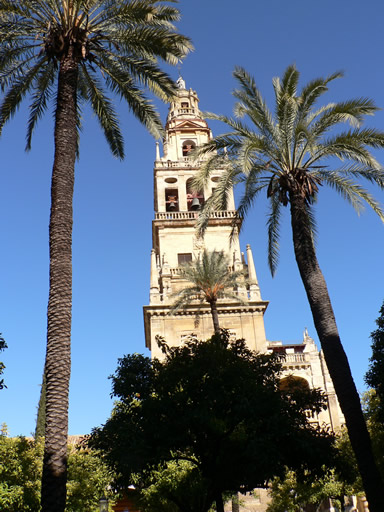 Mesquita bell tower. This rang out several times while we were there (on a Sunday)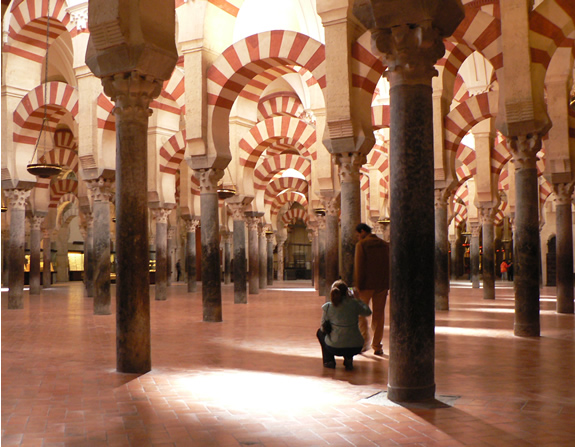 The "mosque" parts of the Mesquita. The whole theme are these repeating striped columns. The prayer niche is more ornate, but nothing like...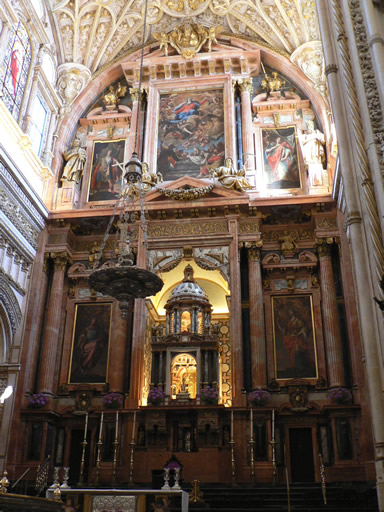 The cathedral built inside the mosque
Activities
Walking around Cordoba
It's an interesting city with some lovely parks and interesting, Arab-influenced architecture. The picture at the top of this page is of Cordoba.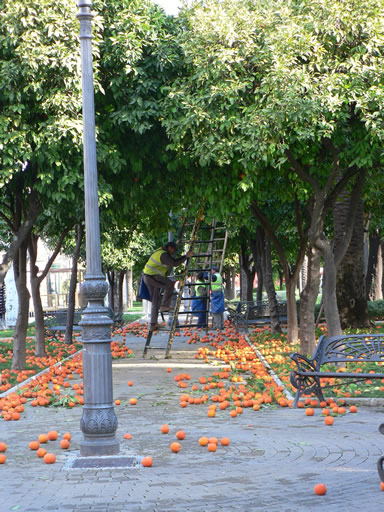 Orange pickers were came across. They have a machine that shakes the oranges from the trees. Then they pick them off the ground. Seriously!
Window shopping in Seville
This is really the place! Mind you, all the shops were closed when we were walking around looking at them. But that's certainly a lot of shoes. I really don't know how you'd ever decide...
Watching the Oscar recap
The only English channel we had was CNN, but it did give us some Oscar news. Like everyone, I was surprised Brokeback Mountain didn't get best picture. Crash was pretty good, but I personally preferred Brokeback.
The food report
We did have a really fun, tasty dinner here at bistro that happened to have a French (from France) waiter. Jean made the mistake of ordering port here, and was told we'd have to go to Portugal for that. (Or, you know, Canada. :-) But we got a Spanish wine-based aperitif instead that was nice. The food menu was rather large and confusing, so he said he would recommend dishes for us. He did a fine job. We had:
Sauteed oyster mushrooms—huge and very fresh
Cold tomato-based soup, typical of the region, quite tasty
Grilled fish—some type we don't have here, but it was quite mild
Grilled pork
For dessert we got complimentary Spanish dessert wine which, with the wine with dinner, was just enough to make us slightly tipsy. But hey, we weren't driving.
Unfortunately, this made our lunch in Cordoba kind of disappointing in comparison, since we ordered similar items but they just weren't prepared as well. It all seemed too greasy.
By this point (we'd also had a fried fish lunch—good, but), we were very much ready for different type of food. With vegetables. And maybe fruit. Both our guide books recommended this Italian place, and we decided that would be the ticket. But we didn't really have a good map of Seville—the tourist place was closed when we got there—and for some reason we didn't look up exactly where this restaurant was before leaving the hotel. We had the address, but...
So we were actually trying to find it by just walking around downtown and hoping we'd come across the street. Smart, eh? OK, so we finally asked a local. He didn't speak English, but we got enough down to find the place on our poor map.
And that Italian dinner was very nice. Big salad with vegetables and fruit; tomato-based and orange-based sauces on fresh pasta; and apple pie dessert. And the first sign of grains in the bread!
It was when checking out of our hotel that it finally dawned on me. Of course, a four-star hotel would have maps available for its clients. And indeed it did, all neatly stacked there on the check-in desk. D'oh.
Observations
Temperatures ranged from 10 to 18 degrees, which seems quite a bit warmer than Madrid. Still need the spring coat, but can now abandon the sweater underneath.
Palm trees everywhere, which is always seems surprising. It's like I expect those to grow only in the Caribbean.
Orange trees all over as well. They smell great, but apparently Seville oranges are pretty bitter—used mostly for making British marmalade.
We did notice more English, French, and German here, whereas Madrid really seemed just Spanish.
Cell phones! Spaniards are crazy about them. But everyone seems to have the same ring tone—odd.
No one offers to help you, ever. No matter how befuddled we looked with our maps, or lack of maps. When we stopped to ask people, they did try to help. But no volunteering happened.