DVD Library

Performance

2002 CD Recommendations
Bob Geldof: Sex, Age, and Death ("Adrian, I've been dreaming about deserts again. What does it all mean? Everything's so dusty. So empty. So arid (wouldn't you?)." — Mudslide)
Alanis Morissette: Under Rug Swept ("I feel so unsexy for someone so beautiful. So boring for someone so interesting" — So Unsexy)
Amanda Marshall: Everybody's Got a Story ("Oh my God! I woke up with a snake tatoo. Oh my God! And I think that my tongue's pierced, too." — Sunday Morning After)
Buffy cast: Once More with Feeling ("She came from the grave much graver / First I'll kill her, then I'll save her / Everything is turning out so dark" — Walk Through the Fire)
Tori Amos: Strange Little Girls ("What's a man now, what's a man mean?" — Real Men)

Musical Performance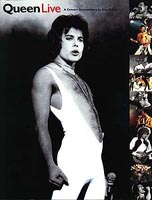 Growing up in Timmins, I didn't get to see a lot of my favourite bands in concert. By the time I moved to Montreal, and then Kitchener, a lot of them had broken up (or died), rendering it impossible to see them at all.
DVD. The next best thing to being there.
Amazing Journey: The Story of the Who — A documentary look back at history of The Who.
The Doors Collection — A Doors videos collection, a Doors concert, and a Doors documentary.
Live Aid – Footage from the 1985 concert for African famine relief, from London and Philadelphia.
Queen Greatest Video Hits 1 — Collection of videos from the early part of Queen's career, with a special focus on "Bohemian Rhapsody."
Queen Greatest Video Hits 2 — Two-DVD set of videos that covers Queen releases from Hot Space to The Miracle.
Queen Live at Wembley Stadium — Full recording of the second-last Queen concert ever. Proving that they definitely went out on top.
Rock Star: INXS - The DVD — Best performances and behind-the-scenes footage from the hit 2005 reality series.
Video Collection — Collection of Freddie Mercury solo videos.
We Will Rock You — Queen concert video; have both the original and the newly released version.