Musically Inspired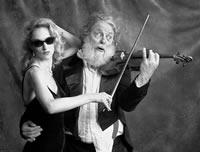 These aren't musicals (characters don't burst into song), these aren't recordings or documentaries about musicians — they're just movies in which music plays a pivotal role. Often it's in the form of dancing; sometimes the characters sing (but in a "naturalistic" way).
I think I've finally found what makes a movie "ownable" to me. Either it has to have Johnny Depp in it, or you have to come out of it humming.
Amadeus: Director's Cut—An account of the life of Wolfgang Amadeus Mozart, as told by jealous fellow composer Salieri.
About a Boy — Comedy about a man whose life is changed through friendship with a boy.
Almost Famous: Bootleg Edition — Extended and original versions of the Cameron Crowe movie about a 15-year-old on assignment for Rolling Stone magazine.
Desperately Seeking Susan — Comedy starring Madonna and Rosanna Arquette.
Dirty Dancing — Romantic comedy starring Patrick Swayze and Jennifer Grey. Lots of dancing and classic songs.
The Doors — Stars Val Kilmer and directed by Oliver Stone. Many great concert sequences.
Ferris Bueller's Day Off—80s classic about a charismatic, insightful teenager who decides to play hooky one day.
A Knight's Tale — Comedic, historical drama starring Heath Ledger, Shannon Sossamon, and Brian Bettany. Noted for its use of rock music in medieval times.

Strictly Ballroom — A hilarious Cinderella story set among the absurd world of Australian ballroom dancing.
Wayne's World — Dumb comedy saved by a lot of smart self-awareness and some fine comic performances by Mike Myers, Dana Carver, Tia Careira, Rob Lowes, and others.