Movies on DVD

Johnny Depp Films

Johnny Depp Films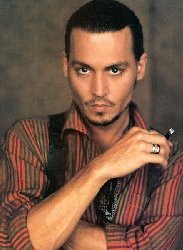 So what's with the Johnny Depp thing? Heck, I don't know. I mean, he's very good looking, of course — those cheekbones! But then, almost all male movie stars are good looking. In fact, many (Brad Pitt, anyone?) are better looking than Johnny.
So, it's not just a looks thing. It's also that he makes very interesting movie choices. Not always good choices — Depp fan or not, I'm not buying Nick of Time, for example — but certainly interesting. And whatever role he chooses, he always brings to a certain grace and depth of spirit to it that I find fascinating.
This man can say more with one eyebrow twitch than most can express with their entire bodies.
So I guess that's it. The Depp DVD list:
Benny and Joon — Offbeat romantic comedy. Mary Stuart Masterson, Aidan Quinn, and Julianna Moore also star.
Blow. Life and times of the man who brought cocaine to America.
Charlie and the Chocolate Factory — Based on the Raoul Dahl novel, about a poor boy who wins a ticket inside the mysterious chocolate factory.

Chocolat — Fable set in France. Also stars Juliette Binoche, Judy Denche, and Lena Olin.

Dead Man — Hypnotic, black and white Western directed by Jim Jarmusch. Features Lance Henrickson and Iggy Pop.

Don Juan DeMarco — Romantic comedy also starring Marlon Brando and Faye Dunaway.

Ed Wood—The story of the "world's worst director", Ed Wood, particularly focusing on his relationship with Bela Lugosi (Martin Landau)
Finding Neverland—The story of how JM Barrie was inspired to write Peter Pan after meeting a young widow and her three sons.
From Hell — A retelling of the Jack the Ripper murders. Also starring Heather Graham.
Pirates of the Caribbean: The Curse of the Black Pearl — Epic, old-fashioned pirate movie featuring a modern interpretation by Depp. Also starring Geoffrey Rush, Orlando Bloom, and Keira Knightly.

Sleepy Hollow — Gothic horror movie also starring Christina Ricci. Directed by Tim Burton.

What's Eating Gilbert Grape — Excellent family drama also starring Leonardo di Caprio and Juliette Lewis.
On the wish list:
Sweeny Todd
More Pirates movies. Maybe.
---
Lists I had running on the home page previously
Best of Depp
What's Eating Gilbert Grape — Wonderful, touching drama about oddball family and the young man (Depp) who's trapped in it.
Benny and Joon — Sweet romantic comedy about an oddball (Depp) insinuating himself into a complex brother/sister relationship. (That makes it sound kinky. It's not.)
Pirates of the Caribbean: Curse of the Black Pearl — 'Nuff said.
Chocolat — Johnny Depp, chocolate, and a blow against intolerance. Who could ask for anything more.
Don Juan DeMarco — A psychiatrist finds himself rejuvenated by treated a young man (Depp) with delusions he's Don Juan DeMarco. Or are they delusions? Possibly Depp's sexiest performance.
Charlie and the Chocolate Factory — A great blend of the talents of the Depp and Tim Burton.
Donnie Brasco — FBI agent (Depp) goes deep undercover into the mob, but develops an honest friendship with one of the mobsters (played by Al Pacino)
Sleepy Hollow — Fun and fantastic-looking retelling of the Sleepy Hollow legend.
Blow — How do you make a drug dealer sympathetic? Get Depp to play him.
Lost in La Mancha — Documentary about the doomed attempt to make a film version of Don Quixote.
From Hell — Another take on the Jack the Ripper story. Not as violent as you'd expect.
Dead Man — Odd but compelling black'n'white western about a man (Depp) whose journey goes terribly wrong.
Edward Scissorhands — Touching story about a boy (Depp) whose dangerous hands make it impossible to adapt to human society.
Cry Baby — Very amusing Jon Waters musical about a bad boy (Depp) and the good girl who can't resist him.
Before Night Falls — Story of Cuban writer Reinaldo Arenas. Depp plays two small roles, including a transvestite.
Ed Wood — Slightly overrated but mostly amusing story of Ed Wood (Depp), "the world's worst movie director." Best part is the relationship between Wood and Bela Lugosi.
The Astronaut's Wife — Not fantastic, but an interesting enough suspense thriller about an American astronaut (Depp) who comes from a mission somehow changed...
The Worst
Fear and Loathing in Las Vegas — Some people love this movie. I did not.
Once Upon a Time in Mexico — And, some loved this one. For me, the action and violence were too much.
Secret Window — It started out fine, then majorly jumped the shark.
Nick of Time — I just didn't buy the whole premise of the movie.
The Man Who Cried — Not horrible, but not great. Kind of rambling and slightly depressing tale set in Holocaust times.