Jean and Cathy's Guide to Eating Out in Kitchener-Waterloo
Last updated 2 September 2012.
Having garnered a bit of a reputation as foodies, we've been asked a few times to supply restaurant suggestions. (Even though we don't eat out as often as people probably think we do.) So here a stab at that. We'll cover the categories we tend to frequent: Fine dining, "Good but less expensive" than fine dining, and Ethnic.
Fine dining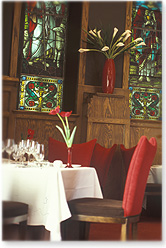 The best restaurant in Kitchener-Waterloo, in our opinion, remains Verses. They make everything in-house, even the ice cream and the bread. Their foie gras is on pare with good Québecois restaurants. They offer a cheese tray with interesting options. All dishes are beautifully presented and taste even better. The wine list is extensive, including many options by the glass, and several Canadian options (so somewhat less expensive).
Verses is in a former church, and still looks pretty much like a church. We don't have to sit on pews, but there is seating in the choir and on the altar, and the windows are stained glass (see picture at left). It's a pretty interesting atmosphere, the only downside of which is that it can get a little noisy when the restaurant is crowded.
Service at Verses is impeccable. The hostess will remember your face after one visit (which is a bit freakish). Several people attend to the table, each with their own specialty: wine, food, keeping water glass full.
Other options: Langdon Hall in Cambridge is more expensive than Verses, but has a lovely setting, grows much of the food cooked here, and offers impeccable cooking and service. The grounds there are also gorgeous. One cheaper and less formal way to experience it is to dine at Wilk's Bar. Same kitchen, some of the same menu items. We haven't tried Wilk's Bar yet, but plan to.
Also worth mentioning is Conestoga College's Bloom restaurant, where future chefs, wait staff, and sommelier's practice their craft. Hours are necessarily spotty (following the school year), and service can be a little off, but I've always had delicious meals here, and you can't beat the prices. In atmosphere, they do a reasonable job of approximating a fine dining establishment.
Good, less expensive
A restaurant that provides very good food and service, but not at the very top end—no truffle toppings, not quite so many people tending to your table. And therefore lower priced.
Nick and Nat's Uptown 21 offer a daily prix-fixe three-course and four-course special menus featuring in-season items, optionally with wine pairings. I usually ordering ending up ordering that, which varies weekly. Their regular menu stays a bit more constant and features lobster, foie gras, beef, and bacon with anything.
We've been a number of times, and generally find the food very well prepared, with creative. Service is professional and knowledgeable, though can occasionally go missing a bit. The feeling in the room is relatively casual despite the white linen and nice glasses. However, it is popular, and it can be really noisy in there when it's full.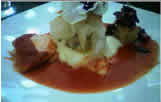 Solé's a bit funny in that their food quality can be inconsistent; we've been both blown away (as by the salmon platter pictured at left) and a little disappointed by food there. Still, we keep returning because the place has such a "warm" atmosphere (in an old Seagram building with a fireplace at the entrance), the service is always fine, the wine list is amazing. My advice for likely getting the wows rather than the disappointment: try the specials if they sound appealing, and ask your server for suggestions if they don't.
The 41 Gastropub, previously known as Peter Martin's 20 King (and Peter Martin's name remains most prominent as signage) remains a reasonable bet for decent (though not outstanding) food and service in a nice atmosphere. Parking can be tricky to find if you're not willing to pay for it (during the day, anyway).
Haven't been in a while, but the Village Creperie on Belmon Street does mainly feature crêpes, and they do make lively ones: very thin, very light. Their fillings are equally fresh, light, and tasty, without the heavy cheese and sauces that just weigh you down at some crêpe establishments. They do offer some non-crêpe options as well, such as crostinis, salads, even steak and potatoes. As added bonuses, they use mostly organic ingredients, and all wines are available by glass, 1/2 litre, or full bottle.
Now back on King Street in Uptown Waterloo, King Street Trio offers good service and good food at reasonable prices, and at a lower decibel volume than Uptown 21.
Borealis Restaurant in southern Kitchener is an interesting option for its local emphasis, good cooking, but very home style foods: perogies, burgers, stews. So it's quite casual, reasonable prices, and is located in an old schoolhouse, which is kind of cool.
There's a tendency to forget about Rushes, at the Waterloo Inn, but it has a nice room (if a bit chlorine-smelling on the way, past the pool), really good service, and pretty decent food. They did a good job of getting us out in time for our concert on our last visit there.
I'll briefly mention these:
Napa Wine Bar in Cambridge, was a bit hit and miss, with some really good items, and some so-so. Also, very slow service when we were there, due to competition from a big group. Nice room, though, and nice wine list. And the slow service was at least quite friendly.
Bauer Kitchen has good food with the option I love of pairing each dish with a particular glass of wine. (They'll also open any other if your table commits to two glasses of it.) But, it's just so noisy, it's hard to enjoy a meal there.
I've generally been pretty happy with King Crab and Oyster Bar, though it's a bit pricey if you don't have a coupon. But the last time we were there, we had an inexperienced waitress who was incapable of getting us our food in time, no matter how often we emphasized the need for speed that night. Maybe I'd go again (for the oysters!), but never if on a deadline.
Ethnic
Not that I've tried them all, by any means, but we do find Cameron Seafood (on Cameron St., Kitchener) to be the best Chinese restaurant we've been to in these parts. They do really nice dim sum food, of course; the only challenge there is that you have to order by name from a menu rather than selecting from a cart, and I just don't know what all my favourite dim sum food is called. They also do a good job with their non-dim sum food, using fresh and flavourful base ingredients and not over-relying on salty or sweet sauce to give the food interest. The place has the usual boisterous atmosphere of Chinese restaurants, and it's generally full at meal times.
For Thai food, while again we haven't been to them all, Northern Thai is a cut above the ones we have been to. It's lovely littler restaurant on Queen St., with a gracious hostess, and all dishes are carefully prepared and fresh-tasting. And stunningly cheap for what you get.
For Japanese, we had been going to Sakura Island, on King and Hickory, and it's fine (though warning that their apparent website is malware-infested), but lately we've been more impressed with Watami Sushi and Sake Bar in uptown Waterloo. They get some interesting specials in, have attentive service, nice presentation, good flavors, and are pretty efficient. I have also heard good things about Niko Niko Roll Sushi in Kitchener, but haven't been able to try it yet. We avoid the "all you can eat" sushi places. Quality beats quantity, every time.
The best Indian restaurants we've tried in town are either Masala Bay or Empress of India. At both places the cook grinds his own spices, giving all dishes a freshness of flavor that lacks in competing restaurants. The prices at both are a definite bargain. Other people have noticed this, though, and both places may suffer from less good service, at times, due to being busy.
Copyright © 2001–2012 - Jean Lefebvre and Catherine McNair
All Rights Reserved
Webmaster: Catherine McNair